Why Triads?
A third person will always stabilize and grow the relationship between the other two. It's called a triad, and the more you create, the stronger your network.
Don't care about triads and just want to use S'Up to pair team members? S'Up can be customized to introduce any number of people.
How to Use
This bot generates fresh triads of company members to meet every week in an informal standup, or S'Up.
It also introduces itself to new team members and can help setup a GCal meeting.
S'Up will then ask whether you met and keep track, a few days later.


Don't want to participate?
Send a DM to @sup with opt out to opt out, or opt in to opt back in.
Admins can opt out users (e.g. opt out @username).
S'Up and Slack admins can configure
the team's timezone (e.g. set timezone Eastern Time (US & Canada)),
the number of people that meet (e.g. set size 3),
the day of the week and time to S'Up (e.g. set day Monday and set time 9AM)
how often S'Ups are created (e.g. set weeks 1),
how long to avoid meeting with the same people (e.g. set recency 12),
whether to generate odd-sized groups (e.g. set odd no)
and more.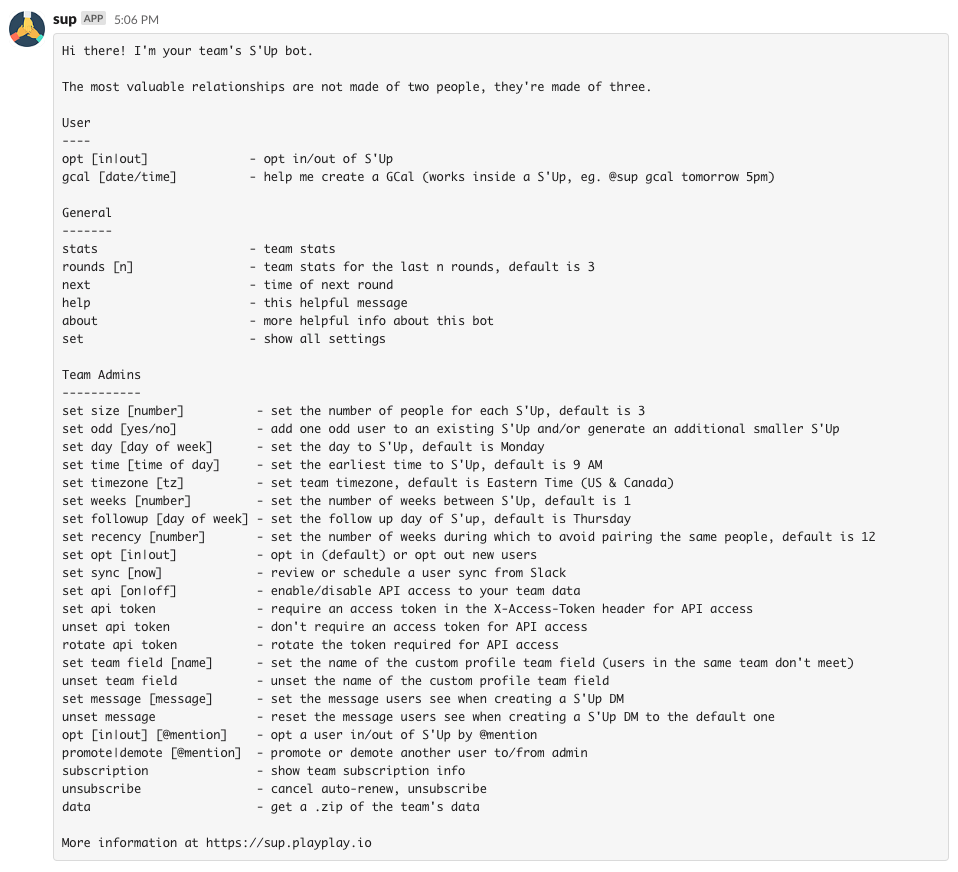 You can also customize S'Up messages (e.g. set message Please find a time for a quick 20 minute break on the calendar.),
and take advantage of custom Slack fields (e.g. set team field Team Name) to improve matches across subteams.
Finally, S'Up provides statistics on the meeting outcomes with stats.

DM the bot subscription to get subscription info and change the credit card used.
DM unsubscribe to cancel auto-renew.